This book-purchase page is for orders shipping outside of the USA & Canada.
Use the shopping cart buttons below to select your book(s) and then use the PayPal checkout at the bottom of the page to complete the order.
All orders ship US Mail to your country's national mail service—delivery typically takes 2 to 3 weeks, but can take longer. Local VAT tax may apply—if so, you will need to pay any such tax upon delivery.
Shipping charges are as follows: $6.95 handling fee plus $20 per book.

This web page is for International customers only.

 USA climbers order here >>
---
---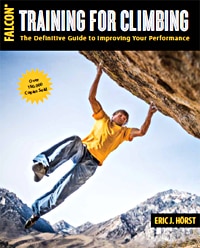 Training for Climbing (3rd edition) – The Definitive Guide to Improving Your Performance
Drawing on the latest climbing research, the third edition of the internationally best-selling Training for Climbing presents a comprehensive, evidence-based program for improving climbing performance. With the unique perspective of a veteran climber, researcher, and coach, Eric Hörst blends leading-edge sport science with his decades of climbing and coaching experience to create a content-rich text packed with practical how-to and what-to-do information. This encyclopedia of all things performance presents the most up-to-date and advanced techniques, and it will become your training/performance guidebook for many years to come…just as it already is for climbers in more than 50 countries! Learn more >>
$29.95 T4C Sale price: $26.95
(Use the T4C shopping cart to check out with Pay Pal.)
---
---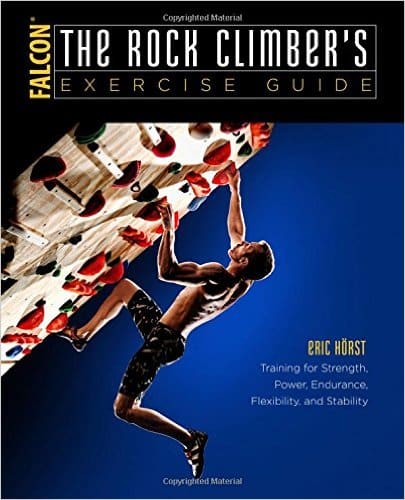 The Rock Climber's Exercise Guide – Training for Strength, Power, Endurance, Flexibility & Stability.
New Release – Now Available!

The Rock Climber's Exercise Guide is the most complete exercise guide for the vertical athlete. This full color book details over 140 exercises and training activities, and it will help climbers of all age and experience develop a most effective physical-training program. Includes dozens of climbing-specific exercises for developing strength, power, and endurance, important exercises for developing strong core and stabilizer muscles, exercises for improving flexibility and mobility, and guidance on self-assessment, weight loss, and training program design! Learn more >>
$25.95 T4C Sale Price: $23.95
(Use the T4C shopping cart to check out with Pay Pal.)
---
---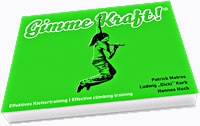 Gimme Kraft! – Effective Climbing Training (Imported from Germany)
This highly anticipated exercise book comes from Nuremberg, Germany, the birth place of modern training for climbing. It was here that the legendary Wolfgang Güllich invented Campus Training and, at the nearby Frankenjura, established the world's first 5.14d/9a, Action Directe. The rich tradition of hard climbing that began with Kurt Albert continues today with young guns like Jan Hojer, Juliane Wurm, and 21-year-old phenom Alex Megos. What is the secret of these incredible climbers? It's their "gimme kraft" (give me power!) mentality of training in smart, effective ways that equally develops power through the entire chain of pulling muscles from the fingers to the core. Learn more >>
$35euro T4C Price: $39.95
(Use the T4C shopping cart to check out with Pay Pal.)
---
---

Maximum Climbing – Mental Training for Peak Performance and Optimal Experience
As physical as climbing is, it is even more mental. Ultimately, you climb with your mind—your hands and feet are merely extensions of your thoughts and will. Becoming a master climber, then, requires that you first become a master of your mind. Perhaps the most powerful and "secret" laden book, Maximum Climbing reveals how to use your mind to get the very most out of your body. Lots of gold to be mined from this book! Learn more >>
T4C Price: $22.95
(Use the T4C shopping cart to check out with Pay Pal.)
---
---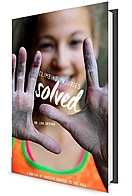 Climbing Injuries Solved – by Dr. Lisa Erikson
Climbing Injuries Solved provides rich detail on the treatment and rehab of many common climbing injuries. Beautifully illustrated and loaded with therapy and preventative tips, this is a must-read text for every serious climber, both injured and healthy. Lisa Erikson (DC) has treated many top climbers, including Dave Graham, Daniel Woods and Angie Payne, and Climbing Injuries Solved is the next best thing to visiting her in person! Learn more >>
$46.50 T4C Price: 37.95
(Use the T4C shopping cart to check out with Pay Pal.)
---
---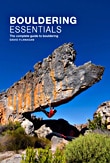 Bouldering Essentials – The Complete Guide to Bouldering
This beautifully illustrated book is the latest text on the rapidly growing sub-sport BOULDERING! Features hundreds of color photos and detailed text instructing on movement, technique, dynamics, safety, training, and strategies to boulder harder! This content-rich book will help any beginner or intermediate boulderer reach for the higher grades. Learn more >>
T4C Price: 29.95
(Use the T4C shopping cart to check out with Pay Pal.)
---
---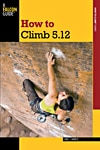 How to Climb 5.12 – The Book That's Guided Thousands of Climbers to the 5.12 Grade!
How to Climb 5.12 is a performance guidebook to attaining the most rapid gains in ability possible. It offers the most detail instruction available on how to work projects, learn and rehearse cruxes sequences, and how to mentally prepare for performance. Includes an overview of training and how to best learn climbing skills. Whether you climb 5.6 or 5.11, How to Climb 5.12 will help elevate your game. Learn more >>
T4C Price: 19.95
(Use the T4C shopping cart to check out with Pay Pal.)
---
---

Learning to Climb Indoors – The Essential Handbook for Every Beginner
Learning to Climb Indoors is the most complete book available on indoor climbing. Topics covered include beginner and advanced climbing techniques, tactics, strategy, basic gear, safety techniques, self-assessment, and a primer on mental training and physical conditioning. Includes everything you need to know from day one as a climber through your first year or two. Endorsed by USA Climbing! Learn more >>
T4C Price: 19.95
(Use the T4C shopping cart to check out with Pay Pal.)
---
---