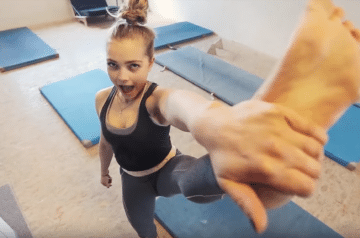 Here are four short, fun videos produced by Cafe Kraft in Nürnberg, Germany. Featuring Miriam Blättler, these videos present some basic climbing warm-up techniques and the reasoning behind doing some warm-up and mobility activities before training.
If you are new to indoor climbing, then these videos offer a great primer to warming up at the gym. Each video runs about 4 minutes. Enjoy!
---
Warm-up for Climbing – Part 1
Warm-up for Climbing – Part 2
Upper Body Mobility – Part 3
Lower Body Mobility – Part 4

Learn more about the two Café Kraft books Gimme Kraft and AIR. Non-North American climbers, please visit www.CafeKraft.de to order a copy.
---
Copyright © 2000–2018 Eric J. Hörst | All Rights Reserved.