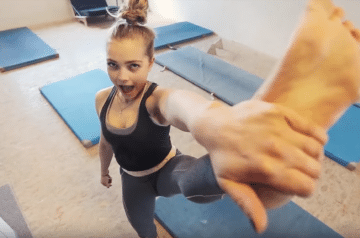 Here are four short, fun videos produced by Hannes Huch, the genius behind the Café Kraft and Gimme Kraft brands. Featuring Miriam Blättler and filmed at Café Kraft, these videos present some basic climbing warm-up techniques and the reasoning behind doing some warm-up and mobility activities before training.
If you are new to indoor climbing, then these videos offer a great primer to warming up at the gym. Each video runs about 4 minutes. Enjoy!
---
Warm-up for Climbing – Part 1
Warm-up for Climbing – Part 2
Upper Body Mobility – Part 3
Lower Body Mobility – Part 4

Learn more about the two Café Kraft books Gimme Kraft and AIR. Non-North American climbers, please visit www.CafeKraft.de to order a copy.
---
Copyright © 2000–2018 Eric J. Hörst | All Rights Reserved.