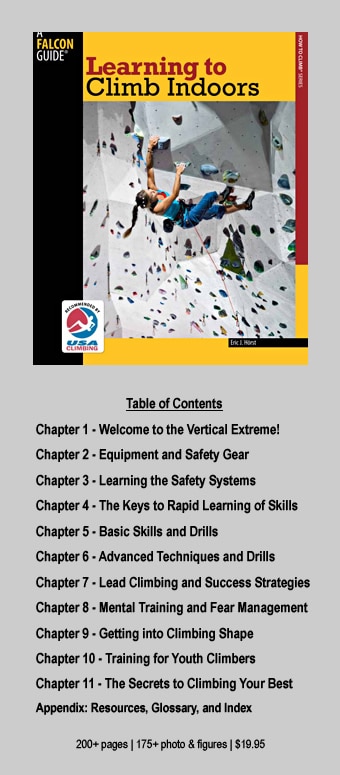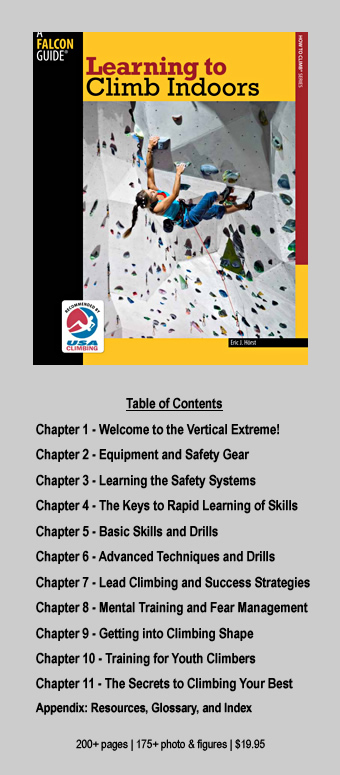 Given the breadth, depth, and quality of this text, USA Climbing endorses Learning to Climb Indoors as the go-to guide for individuals beginning their journey as an indoor climber. —USA Climbing
The essential handbook for every beginner, Learning to Climb Indoors is the most complete book available on indoor climbing.
Veteran climber, performance coach, and renowned author Eric J. Hörst provides all the information you need to get started and have fun. From what to expect on your first visit to a climbing gym to in-depth instruction on climbing techniques, tactics, and safe-climbing strategies, this guide will take you through your first few days–and years–as a climber.
The book concludes with full chapters on youth climbing and age-appropriate training practices, and critical information on taking your indoor-climbing skills outside to experience the adventure of ascending real rock.
* Support TrainingForClimbing.com — Click here to order Learning to Climb Indoors! *
---
Learning to Climbing Indoors – "Forward" by USA Climbing
Indoor climbing is one of the fastest growing sports in the world, and if you give it a try you'll quickly discover why!
Besides being an excellent physical workout, climbing is also an incredible mental exercise that teaches you how to challenge fear, act with strategy, and focus intensely. Furthermore, one of the greatest beauties—and benefits—of climbing is how it can reset your emotions and clear a mind clouded by the chaotic world we live in. With indoor climbing, you get to challenge yourself against an unbiased climbing wall, and with every ascent you'll gain mental clarity, confidence, and a rich, pure sense of joy and autonomy.
So, what are you waiting for? With one or more commercial gyms now open in every major city, chances are there's a rock wall nearby awaiting you. Whereas the climbing gyms of yesteryear were often dingy and uninspiring, the latest generation is well-lit with clean interiors and colorful, multifaceted walls that will get your heart a-pumping. Not to be glossed over, however, is the fact that indoor climbing does have inherent dangers—but with proper instruction and vigilant use of a few basic safety protocols, climbing is in fact an exceedingly safe activity that's far less risky than driving the freeway.
The book you are holding offers an excellent introduction to the vertical world of indoor climbing. Penned by a true expert, Eric J. Hörst, Learning to Climb Indoors delivers outstanding instruction on all the critical aspects of the indoor climbing experience. In addition to coverage of vital climbing gear and safety procedures, Hörst delivers easy-to-understand instruction on how to develop effective climbing technique, build mental skills, and train strength and endurance. There's also authoritative instruction on the emerging specialty of training youth climbers—chapter 10 contains essential information for every parent and coach of an aspiring young crusher. Given the breadth, depth, and quality of this text, the USA Climbing endorses Learning to Climb Indoors as the go-to guide for individuals beginning their journey as an indoor climber. Of course, no book replaces the invaluable instruction of a knowledgeable climbing coach, so we urge you to use this book as a complement to the personalized instruction and coaching available at your gym.
The rapid growth of climbing, both here in the United States and around the world, makes this an exciting time for all of us here at USA Climbing—as the governing body of competition climbing in America, we are thrilled that you're giving climbing a try! Our climbing competitions—which range from local-level comps for all ages and abilities to professional-level and World Cup events—are growing bigger every year, and we have a participant and spectator group that rabidly supports us. So why don't you join us? No matter if you're a participant or a spectator, our competitions offer an exciting way to socialize with likeminded individuals and, excitingly, the chance to get involved in a sport that may debut in the 2020 Olympic Games!
No matter if you aspire to simply climb for fun and fitness or to become an advanced climber that ventures out onto the many magnificent crags of the world, we wish you the best of times and many safe, wonderful climbs!