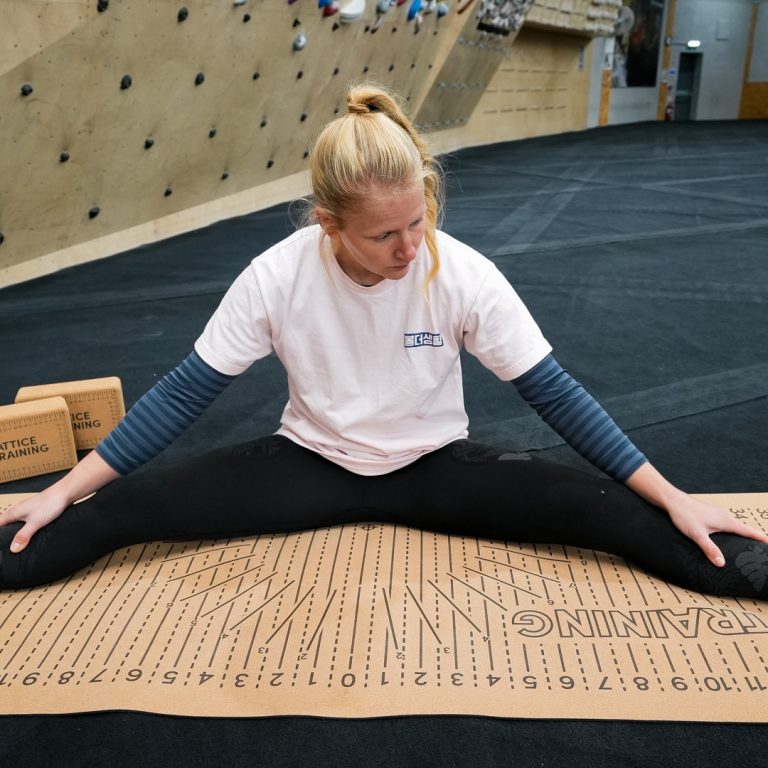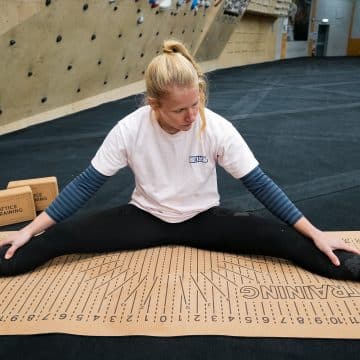 Climbing flexibility is a key factor in athlete performance on plastic and on rock — check out this Lattice UK blog if you're not convinced! We've seen first-hand that task-based stretching is often more effective at increasing climbing flexibility. That's why Lattice Training developed the Flex Mat — a one of a kind heavy-duty cork yoga mat specifically designed for climbers to assess your flexibility, target your training, and track your mobility.
---
Lattice has taken the same methodology as their proven hangboarding protocols and applied it to flexibility training. Measure periodically session to session to break plateaus and take control of your progress.
The Flex Mat's unique measurement system features:
Two angle finders conveniently located for wall exercises, complete with alignment markers for repeatability. Great for pancake stretches.
Two sets of linear scales: from end to end, and centre out for easy counting. Perfect for horse squats and side splits.
Increased length over standard yoga mats. We've found standard mats don't cover the distance required for front and side splits so we've designed the Flex Mat to support you even at full stretch. Product Dimensions: 210x63x0.4cm
Pair with our Flex Block for even more climbing stretches and measurements. Check out the "Flex" bundle for special discount price!
Made from organic materials and laser engraved, our cork yoga mats are more eco-friendly than other plastic based products. The soft cork top is kind to your skin while the thick natural rubber base supports you in all stretches. Combined they make a durable, anti-tear cork yoga mat with natural antimicrobial and antifungal properties that remains grippy even after a sweaty session.
Test your flexibility and compare your results with our dataset! Find out how you stack up against the community and identify areas of potential improvement. Just go to MyFlex for instructions and enter your scores.
Imported from the United Kingdom and distributed exclusively in the USA by Training For Climbing, LLC.
---
Copyright © 2000–2023 Training For Climbing, LLC | All Rights Reserved.