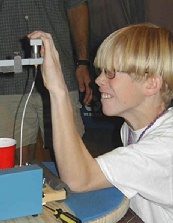 Prior to the 1990s climbing boom there was little research extant other that a handful of studies that mainly focused on climbing injuries and anthropometry. Fortunately, an increasing number of academics now view rock climbing as a worthy subject of research.
The past decade has brought a number of excellent papers by Spanish, British, French, German, and American researchers, and most recently by researchers in Eastern Europe. In the U.S., Dr. Phil Watts of Northern Michigan University led the initial push, while others like the U.K.'s Dave Binney added much to the body of knowledge. Several graduate students, both in the US and abroad, are now jumping in with excellent Thesis projects involving climbing—and, in particular, Eva Lopez (Spain) has conducted important studies of hangboard training protocols. Following are links to abstracts and papers published by dedicated researchers who share our passion for rock climbing!
As the clearinghouse for information on climbing performance, T4C invites other researchers to submit papers or links for dissemination to a our global audience. Feel free to reach out to me via the Contact page!
---
This page is under development…more research posts are coming soon!