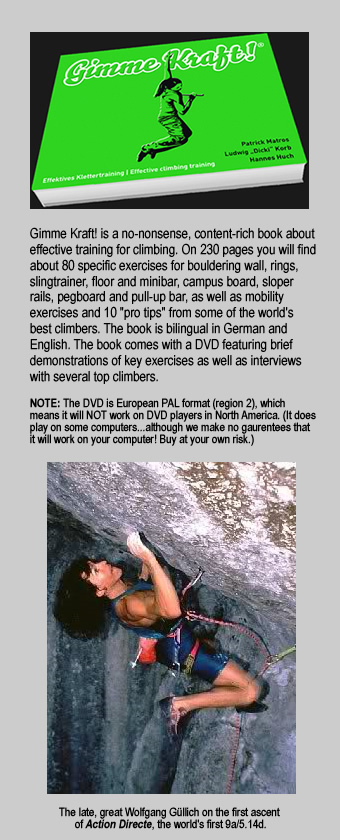 There's no such thing as too much strength!
–Wolfgang Güllich
This one-of-a-kind book comes from Nuremberg, Germany, the birth place of modern training for climbing. It was here that the legendary Wolfgang Güllich invented Campus Training and, at the nearby Frankenjura, established the world's first 5.14d/9a, Action Directe. The rich tradition of hard climbing that began with Kurt Albert (the father of the "redpoint") and Güllich continues today with young guns like Jan Hojer, Juliane Wurm, and young phenom Alex Megos, who recently achieved the world's first 5.14d/9a onsight ascent!
What is the secret of these incredible climbers? It's their "gimme kraft" (give me strength!) mentality of training in smart, effective ways that equally develops power through the entire chain of pulling muscles from the fingers to the core. Trainers Dicki Korb and Patrick Matros have spent years refining and improving the well-known climbing exercises of the past as well as developing new exercises and power-training techniques. These amazing trainers have packaged their techniques into the Gimme Kraft! book and DVD, produced and published by Hannes Huch, the visionary behind Nuremberg's renowned Cafe Kraft climbing gym. Now, Gimme Kraft! shares this wealth of information with climbers around the world!
I must point out that Gimme Kraft! is not a beginners' book. While some of the exercises can surely be performed by novices, this text is written for experienced climbers who have already mastered basic climbing techniques and possess a solid base level of fitness. For the more advanced climber, however, this book serves up dozens of effective exercises that you can pick and choose from–and cycle through–for many years of powerful climbing to come!
Can Gimme Kraft! empower you to climb harder? Absolutely! As long as you appropriately select and properly execute the exercises in the right frequency and volume. In power training, doing too much, too soon can provide negative results and might even get you injured. So you'll want to gradually add new exercises over the course of many weeks and months, and proactively adjust the frequency and volume of training to optimize results. Long term, I trust, higher power will be yours–and then you can thank trainers Korb & Matros for helping you achieve the next grade!
* Order GIMME KRAFT! (US & Canadian customers only) from PhysiVantage.com *
---
A message form the authors:
How do I get stronger? How can I train most efficiently? Which exercises make the most sense? These are only a few questions that we as trainers are asked every day.
Throughout the last decade, climbing went through major developments especially in the realm of training where contents and methods have changed dramatically as far as sophistication goes. Our main target is to enrich the current knowledge of training with a selection of new and creative exercises. The focus of our program is a well-balanced and long-term performance gain. We want to avoid a one-sided physical burden through inappropriate training.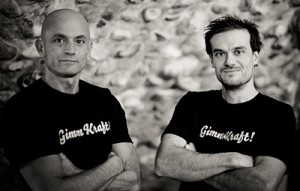 How can I train in a well-rounded manner? What is it that I have to focus on during my exercises? What is the ideal extent of my training-activities? How do I combine them most productively? You can find the answers to all these questions in this easy-to-understand book and companion DVD. We have decided in favor of an additional learning video because we believe that it is the best way to communicate the complex forms of our exercises in a didactically appropriate manner.
There's another thing which might be of interest for many of you: The answer to the question: how pro-climbers train? We have put together a fine selection of interviews to provide you with some insight on what a few of the best climbers in the world do in terms of training. –Your trainers, Dicki & Patrick
 * Watch a T4C Interview with Gimme Kraft! authors Matros and Korb! *
---
A GIMME KRAFT! case study – Alex Megos: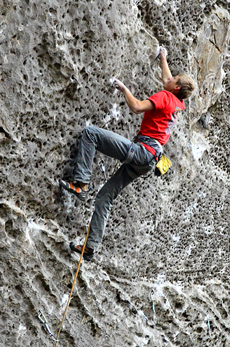 Just two years ago almost no one outside of Germany had ever heard of Alex Megos. Today, however, 22-year-old Alex is recognized as one of the top sport climbers in the world with his shocking under-two-hours redpoint of "Action Directe " (9a/5.14d) and his mind-boggling 3rd-go ascent of Biographie (9a+/5.15a) in summer 2014.
Born in 1993, Alex began climbing with his father at age 5. Since the age 13 he has been training under Gimme Kraft! author Patrick Matros, and his recent successes–and his quiet, powerful, controlled climbing style–are some of the best evidence of the Gimme-Kraft philosophy.
Like many top climbers in the modern generation, Alex found an immediate affinity with competition climbing. At the age of 14 he was the Bavarian Sport Climbing champion. The successes kept on snowballing and in 2008 and 2009 he was German youth champion. In 2009 and 2010 he won the European Youth Cup, and in 2010 he gained second place in the Youth World Championship in Edinburgh.
Vast improvement continued and in 2010 Alexander onsighted La Pietra Murata F8b+ in Massone, Arco. The legendary Frankenjura route, Wallstreet F8c was despatched in only five tries. In 2012, Alex set off on an extended road trip around the US. First up was a four day redpoint of Dave Graham's bouldery test-piece, The Fly 5.14d (F9a) in Rumney. Next a shift to Red River Gorge saw a rush of hard repeats, including four 8c+s, all completed in super fast time, three F8b+s climbed onsight and Pure Imagination, his first 8c+ flash. 2013 brought international acclaim with Alex's onsight of "Estado Critico" (9a/5.14d) in Spain and many other hard sends and flashes near the 9a level.
With such a track record the future looks bright for Alexander. He is keen on photography and traveling (particularly to mountainous areas), he also speaks four different languages (German, English, French and Greek).
(Gimme Kraft! is distributed in North America exclusively by Training For Climbing, LLC — Dealer inquires are welcome.)