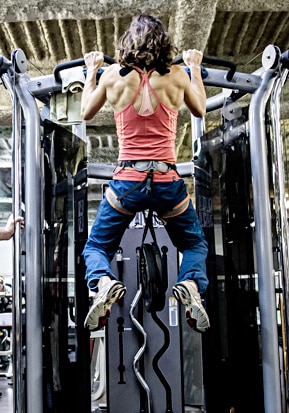 Would you like to increase your pull-muscle and lock-off strength, lunging power, and pulling endurance by 20% or more? Of course, you would!
Here's how. Commit to weighted pull-up training, three times per week, for the next ten weeks. Sound simple? Yes it is, but you need to make a commitment and follow through completely to obtain the results.
(Caveat: If you're really strong already—can you do a one-arm pull-up?—then this article isn't for you! You can segue into one-arm training using this program. )
First, let's establish a benchmark for your current pull-up endurance and strength—this will provide you with a value for comparison when you re-take the test in 10 weeks. Here are the two tests:
Endurance Metric

—the number of "true" pull-ups you can do in one set.  A "true" pull-up is going all the way down to straight arms and pulling up until your chin is fully above the bar (arms in lock-off position)—partial pull-ups don't count. Take this test after a complete warm-up, and use a pull-up bar or the bucket holds of a fingerboard to perform the pull-ups. Record in a training notebook your test results. Now, calculate where you'd be with a 20 percent increase in the number of pull-ups—this is your 10-week goal.

Strength Metric

—the maximum added weight with which you can do a single true pull-up. This test takes some extra equipment, either a few weight belts and a vest (with removable weights) or better yet a Dips Belt or harness from which you can hang weight lifting plates (see photo). After a warm-up, begin testing yourself with a series of one-rep pull-up sets, adding weight each time until you find the maximum weight you can perform a true pull-up with. Really strong climbers can begin testing with 25% of body weight added and go up in about 10-pound increments, while most others should begin with 10% of body weight added and increase by 5-pound increments. Upon finding your max weight, record the result, and calculate your 20% goal weight.
Your 10-Week Pull-Muscle Training Program

To achieve this goal you're going to leverage a "hypergravity training" technique as detailed in my book, Training For Climbing.
In a nutshell, you're going to simulate hypergravity (greater than gravity's natural pull) by adding weight to your body while you perform five sets of pull-ups. Ever notice how light your feet feel upon taking off a pair of ski boots or a heavy backpack? We are going to create the same effect with your climbing muscles! The key is to do all of your pull-up training with weight added (weight vest, belt, or free weights hanging from your harness) to trigger your neuromuscular system to adapt to this apparent increase in gravity. Long-term, you'll develop a new level of pull-up and lock-off strength—on the rock at normal body weight, you just might begin to feel like you are climbing on the moon!
The "5 x 5" Weighted Pull-up Protocol
On your normal training and/or climbing days, perform five sets of five weighted pull-ups, ideally during the middle part of your workout when the muscles are well-warmed but still relatively fresh. Each set will consist of just five pull-ups, followed by at least three minutes of rest. Initially, you'll need to experiment a bit to find the right training weight—which is an amount that is difficult but only brings you to near-complete failure on the last (fifth) rep of the fourth and fifth sets. For many people, the right training weight will be around half of their one-rep max added weight, as identified in the Strength Metric test above. Increase your training weight as needed to stay with this protocol throughout the ten-week program. (TIP: Vary the distance between your hands slightly with each set, and do not "hang rest" in the middle of a pull-up set).
Upon the completion of this ten-week program, take two to four days off from serious training/climbing. Then do a good warm-up and repeat the Strength and Endurance tests. I'm confident that you'll be pleasantly surprised with the results!
Are Weighted Pull-ups Appropriate for You?
As a final note, weighted pull-up training is not appropriate if you are unable to do at least 10 consecutive true pull-ups. Instead, commit to a similar three-day-per week, ten-week program of pull-ups at bodyweight. Your training goal for each session is to do five sets of 5 to 8 pull-ups. The secret to your success is to have a spotter aid you in doing 5 to 8 pull-ups in each of your five sets. Begin each set doing the pull-ups under your own power, but have the spotter grab hold at your hips and help lift to complete 5 to 8 reps per set. Within ten weeks, you should become able to do 10 pull-ups on your own (and you'll feel way stronger on the rock!), at which time you can begin the weighted pull-up protocol detailed above.
Pro Tips on Nutrition
Over-enthusiastic training, too few rest days, and chronic protein deficiency are common contributing factors among frequently injured climbers. Conversely, seldom injured climbers engage in appropriate high-intensity training followed by sufficient rest and low-load training while consuming adequate protein to support net collagen synthesis and long-term remodeling. These climbers develop stronger muscles and tendons season over season, and they have a good chance to advance their climbing ability. Read more about how you can increase strength and lower your injury risk >>
Related Articles:
---
Copyright © 2000–2020 Eric J. Hörst | All Rights Reserved.