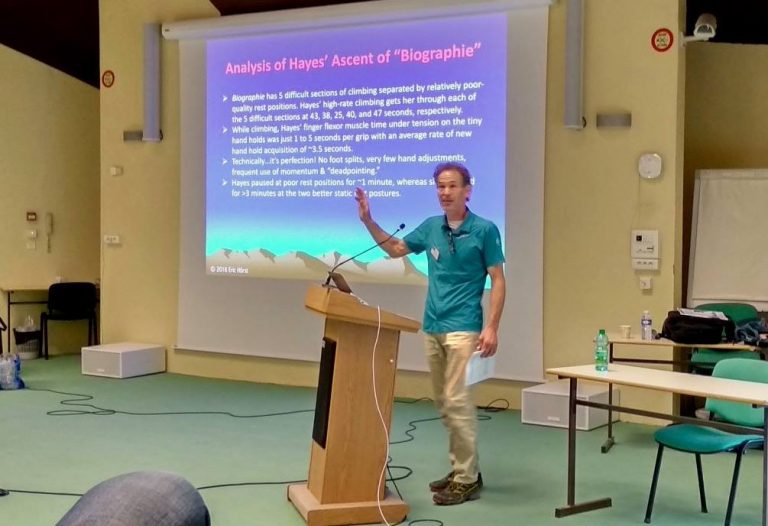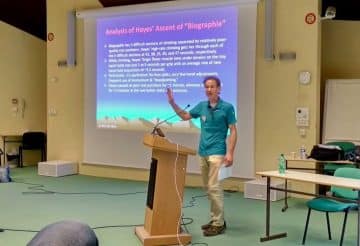 I've just returned from a month-long trip to Europe, one of the highlights of which was attending the 4th Congress of the International Rock Climbing Researchers Association (IRCRA) in Chamonix. I was honored to speak along side many of the world's top researchers and coaches during this five-day event.
I presented my video analysis of Margo Hayes' first female ascent of Biograpie (5.15a) and Adam Ondra's barrier-breaking first ascent of Silence (5.15d). Below you will find the Abstract of my presentation as well as two of the PowerPoint slides revealing a partial summary of my findings. IRCRA will released my complete presentation and paper in September, along with those of many other speakers. Stay tuned!
---
QUALITATIVE ANALYSIS OF TWO OF 2017'S GREATEST ASCENTS AND A PROPOSED CONCEPTUAL MODEL FOR MAXIMUM-DIFFICULTY SPORT CLIMBING AND ENERGY SYSTEM REQUIREMENTS
ABSTRACT
Maximum difficultly sport climbing entered a new realm in 2017 with multiple barrier-breaking events, including the first female 9a+/5.15a ascents and the completion of the world's first 9c/5.15d route. Qualitative analysis of two of these ascents, along with a growing body of peer-reviewed climbing research, support the conceptual model of maximum-difficulty sport climbing as an intermittent near-maximal effort activity. High economy and optimal bioenergetics are obtained via a "climb fast between long rests" strategy that maximizes anaerobic alactic and aerobic power output. Effective training interventions must target development of all three energy systems, with particular emphasis on increasing the more trainable anaerobic alactic and aerobic (climbing-specificVO2) energy systems.
---
Here are two of the 12 slides from my IRCRA presentation.
Slide #9 – Summary of Findings
For a highly detailed analysis of each ascent, read about Margo Hayes climbing Biographie and Adam Ondra's Silence.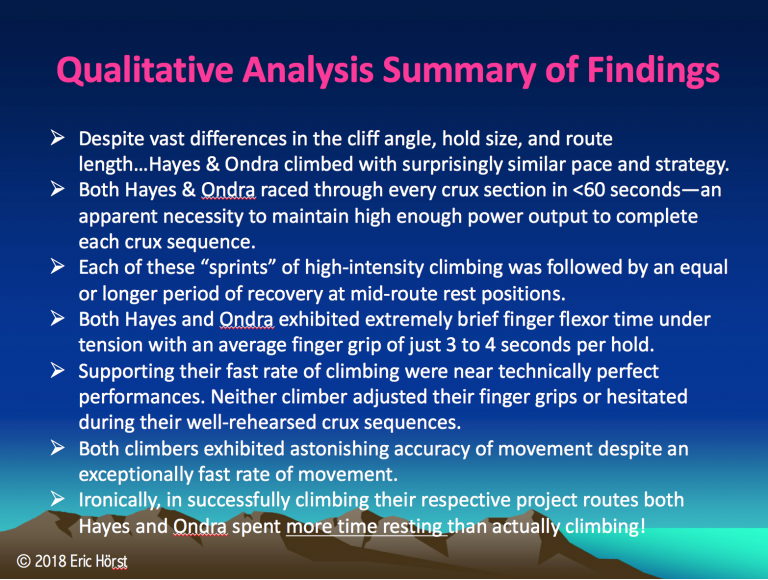 Slide #11 – Keys for Maximum-Difficult Sport Climbing
Regardless of your maximum grade (5.12a or 5.15a), the strategy for success on many of today's modern sport climbings (i.e. steep, powerful routes) is basically the same. Here are a few keys to refining your climbing strategy and training program to stretch your maximum level to the next grade!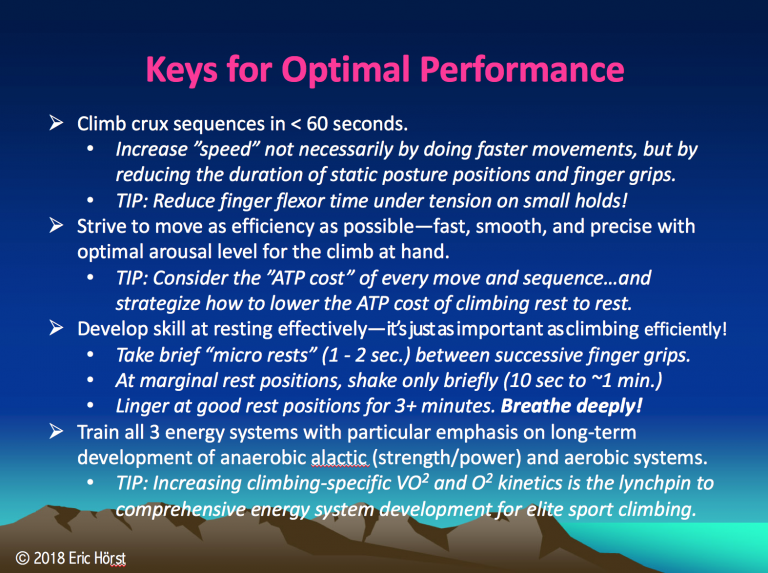 You can learn more about energy system training from my recent series of 4 podcasts on the topic. Subscribe on iTunes (or other podcast player) to "Eric Hörst's Training For Climbing" podcast. You can also listen to the T4C podcast on Spotify, or here on Training4Climbing.com!
---
Copyright © 2000–2018 Eric J. Hörst | All Rights Reserved.