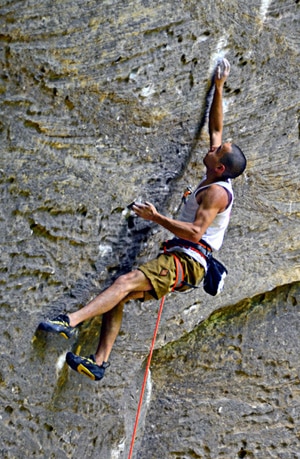 Learn how to optimize your body composition and increase specific-strength metrics to elevate climbing performance.
Strength-to-weight ratio and power-to-weight ratio are important key performance indicators (KPIs) for climbers. While advancing your technical and mental skills is always paramount, training to increase your strength and power metrics is likewise essential for reaching the higher grades. Consider that elite climbers (~5.14b/8c/V13 or harder) typically have a one-hand first finger pad force equal to or greater than their body weight. How does your grip strength-to-weight ratio compare?
A well-designed training program, then, should bring about measurable increases in your finger strength and pulling power with little or no weight gain. Of course, if you're carrying around excess body fat, then training for weight loss is likely the quickest pathway to a higher strength-to-weight ratio.
As a veteran coach, having worked with hundreds of climbers over the past 30+ years, I feel the reasonable body fat percentage for peak climbing performance is 6 to 12 percent for men and 10 to 18 percent for women—many elite climbers are near the low end of these ranges. Maintaining such a body fat percentage, which is in line with elite athletes in other power-to-weight ratio sports (gymnastics, jumping, rowing, sprinting, distance running), requires an educated and mature approach to eating such that adequate nutrients are present for optimal health and performance. [NOTE: This article is written with the context of an elite-level climber, not a recreational climber. Of course, a high strength-to-weight ratio is important for all climbers, but it's a far more critical metric for elite climbers.]
If you're not sure how you measure up, consider having your body fat tested. Call around to local medical centers, private training centers, and university physio labs and ask for DXA; alternatively, a simple skinfold caliper calculation will give you a good estimate. Or you can use the economic pinch-an-inch method on your waistline—if you can pinch an inch (2.5cm or more), then you are certainly not in the optimal range.
Similarly, excessive muscular weight is about as bad as excessive fat. In fact, since muscle weighs more than fat per unit volume, large muscles in the wrong place are worse than fat. Your previous sports background and former methods of training, as well as genetics, play a large role in the amount of muscle mass you are carrying. For example, perhaps you previously were involved in bodybuilding or Cross-Fit style of training program (doing many sets of high rep exercises which tend to grow larger muscles). Or, perhaps, you come from a family of endomorphs who naturally have larger bones and thicker legs. Regardless of your situation, you can certainly improve your body composition and strength ratios, but there will obviously be genetic limitations.
Nutritional Strategy
No matter if you can "pinch an inch" or possess large muscles that you'd like to somewhat shrink, you can go about doing this via nutritional and/or training interventions (ideally both). The dietary strategy is to reduce empty calories from junk foods and high-fat fast foods, while maintaining a steady consumption of protein and moderate consumption of carbohydrates.
Getting into specific foods to eat (and avoid) is beyond the scope of this article, but the ideal macronutrient caloric breakdown for an athlete is 60 to 65 percent carbohydrate, ~20 percent protein, and 15 to 20 percent fat. (Popular low-carb, high-fat diets, while often successful at  yielding weight loss, are generally not ideal for most strength/power athletes needing carbohydrates to fuel anaerobic )
So how many calories to you need and how much should you reduce calories for weight loss? Everyone is different (age, metabolism, insulin sensitivity, activity level, etc.), but here are some rough estimates to begin your personal analysis. An active male (weighing around 160 pounds) desirous of some weight loss might restrict his total dietary intake to around 2,000 calories per day (perhaps up to 3,000 on extremely active days). This would break down to about 300 grams of carbohydrate, 90 grams of protein, and 55 grams of fat.
Similarly, an active female (around 120 lbs) wanting to drop a few pounds might limit total daily food consumption to about 1,500 calories (up to ~2,000 on extremely active days), striving for a macronutrient breakdown of around 245 grams of carbohydrate, 65 grams of protein, and 50 grams of fat. Upon achieving desired climbing weight, gradually increase caloric intake to determine the appropriate consumption to maintain stable body weight. (Use this niffy online Calorie Calculator to estimate your needs and burn rate.)
Training Strategy
In addition to your climbing-specific training activities, you need to fall in love with, er, persevere in doing some running—one of the more effective methods of incinerating fat and shrinking unwanted muscle. Don't worry about losing your climbing muscles, however; they will be preserved as long as you continue to climb regularly and consume 1.2 – 1.6 grams of protein per kilogram of body weight per day. Other popular aerobic activities such as mountain biking and the StairMaster will yield mixed results, as they may maintain (or build) undesirable leg muscle. Swimming or fast hiking are good alternatives if you can't run.
How should you run? There are two approaches I recommend: long-slow distance running and high-intensity interval training.
Long-slow distance (LSD) running is most common for weight loss, as many people believe it's the best way to burn fat. Sure, going for a 20- to 60-minute run will burn a good number of calories…and doing this a few days per week will likely yield decent result over the course of several weeks. However, long-distance running doesn't do much for your metabolism and excessive distance will likely detract from your climbing strength and power. Therefore, if you choose this form of running I suggest you limit yourself to three or four 20- to 30-minute runs per week.
High-intensity intervals (HIT) are my preferred form of running, and I recommend most of my client athletes do two HIT sessions per week (and in some cases two more LSD runs). The time investment is just 20-minutes three days per week, but the metabolic results are better than churning out many miles of LSD. The strategy here is to jog for 4 minutes as a warm-up, then alternate one-minute of near-maximal running (90% of all-out speed) with one-minute of jogging or walking (I generally walk for 30 seconds then jog for 30 seconds). Do 5 to 8 of these intervals, then do a couple minutes of cool-down jogging or walking. Great workout!
As you near your weight target you can reduce these workouts to just one or two per week. Of course, long-term discipline with your diet and climbing-specific training are essential for maximizing your strength-to-weight ratio. Approaching your genetic limit in strength and power will take many years (likely 10+) to remodel connective tissues and maximize neuromuscular recruitment—factors that are invisible to your eye (unlike excessive body fat and muscle), but fundamental for climbing your best.
---
Copyright © 2000–2019 Eric J. Hörst | All Rights Reserved.