"Training like it's 1989!" – An interview with climbing legend, Jerry Moffatt
Café Kraft's Hannes Huch has put together a great interview with 1980s/90s climbing superstar, Jerry Moffatt, including some rare training footage circa 1989 (one spot in the video incorrectly labels it 1998) of Jerry and Ben Moon training on their small cellar woodie. The video and interview reveals the state of training (simple and intuitive) in the 1980s, as well as some nice backstory on Wolfgang Güllich's  original campus board. While training for climbing has evolved vastly in the 25 years since, some of their old golden rules of training (as voiced by Moffat in the video) still apply: 1. Training for gains in power/strength are paramount, 2. Don't train power in a tired/fatigued state—quality over quantity, 3. Taper your training and take a rest day or two to be fully fresh for sending your project!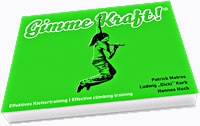 ---
From the birthplace of Campus Training….comes the German training book Gimme Kraft! Originally published in 2014, Gimme Kraft is on it's fourth printing and continues as an international best-seller. The bilingual (German & English) book presents dozens of strength and power training exercises, and reveals some of the training techniques used by German phenom, Alex Megos. Click here to learn more about this best-selling book, available only from TrainingForClimbing.com, the exclusive North American distributor. Climbers from elsewhere should order from the Café Kraft web site.
---
Copyright © 2000–2016 Eric J. Hörst | All Rights Reserved.
Training For Climbing, LLC.