Red Bull athlete, Alex Megos, trains about as hard and smart as anyone on the planet. He's lucky to have a world-class gym, Café Kraft, near his home in Germany and, more important, two of the world's best coaches, Patrick Matros and Dicki Korb, guiding his training for the past nine years. This video is the first in a four-part series documenting some of Alex's training, including interviews with his coaches (in German). You'll also get to enjoy some short, but stunning clips of Alex climbing at the New River Gorge (Trebuchet 14b/8c), Spain, Bishop, and his home area the Frankenjura. Don't miss the sick footage of Alex absolutely crushing Action Directe, the world's first 5.14d/9a!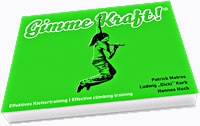 Would you like to learn some of Alex Megos' training exercises? Lucky for you, his coaches (Patrick & Dicki) have created a book, Gimme Kraft, that shares dozens of the exercises that Alex uses each workout. Click here to learn more about this best-selling book, available only from TrainingForClimbing.com, the exclusive North American distributor. Climbers from elsewhere should order from the Café Kraft web site.
---
Copyright © 2000–2016 Eric J. Hörst | All Rights Reserved.
Training For Climbing, LLC.