Here are two great boulder-training videos featuring German rockstar, Alex Megos. In case you've been under a rock (rather than climbing rocks!) the past year, there are few, if any, climbers in the world who are sending 5.14 and 5.15 routes as fast as Alex. Just this past New Year's Eve, Alex did the third ascent of Chris Sharma's First Round, First Minute (5.15b/9b), and so thereafter Alex was back in Germany training at the legendary Café Kraft for what will undoubtedly be a great 2016 season.
Thank you to our friends Hannes, Dicki, and Patrick for sharing a few of Alex's sessions via these following two videos!
Be strong – be like Alex! (Part 1)
Be strong – be like Alex! (Part 2)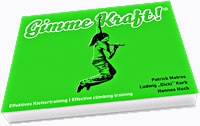 Would you like to learn some of Alex Megos' training exercises? Lucky for you, his coaches (Patrick & Dicki) have created a book, Gimme Kraft, that shares dozens of the exercises that Alex uses each workout. Click here to learn more about this best-selling book, available only from Training For Climbing LLC, the exclusive North American distributor. Climbers from elsewhere should order from the Café Kraft web site.
---
Copyright © 2000–2019 Eric J. Hörst | All Rights Reserved.
Training For Climbing, LLC.