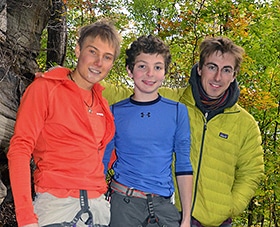 In June of 2015 my family and I climbed with Alex Megos in the Frankenjura, his home crag in Germany. Alex mentioned to me that he was planning an Autumn trip to the United State, but hadn't yet decided where he would visit. I strongly recommend to Alex that he come climb at my home crag, the New River Gorge, West Virginia. I spent more than a decade (late 1980s through early 2000s) as one of the primary developers at the New, so perhaps I was being a bit self-serving by wishing Alex come visit "my area". Still, knowing that Alex is both a world-class boulderer and sport climber, I was confident that he would fall in love with (and excel in climbing) the long, sustained, yet surprisingly bouldery routes on the New's superb sandstone. And I was right!
Long story short: Alex's three-week visit to the New was historic, as he crushed most of the local testpieces and did first ascents of several long-standing projects, including the region's first 5.14d/9a route, Super Pod. In part 2 of Red Bull's Formula Series on Alex, you'll see some incredible footage of him climbing at the New….and gain more insight into what makes him one of the very best.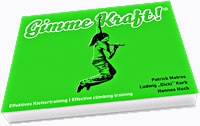 Would you like to learn some of Alex Megos' training exercises? Lucky for you, his coaches (Patrick & Dicki) have created a book, Gimme Kraft, that shares dozens of the exercises that Alex uses each workout. Click here to learn more about this best-selling book, available only from TrainingForClimbing.com, the exclusive North American distributor. Climbers from elsewhere should order from the Café Kraft web site.
---
Copyright © 2000–2016 Eric J. Hörst | All Rights Reserved.