This is a paper by Dr. Richard Fleming and Eric Hörst providing a behavioral analysis of performance climbing.
Key Points & Practical Application:
This paper provides broad insight into the unique behaviors and skills of advanced versus beginner climbers—a must-read for climbing coaches!
Highlights research on effective linking of complex sequences and role of reinforcement, stimulus control, and establishing operations.
Presents how "fluency training", practicing making moves accurately and quickly, may be an effective practice technique, especially for non-elite level climbers.
Discusses opportunities for future research in sport climbing.
Behavior Analysis and Sport Climbing
Richard K. Fleming & Eric J. Hörst
Journal of Behavioral Health and Medicine, Vol 1(2), 2010, 143-154.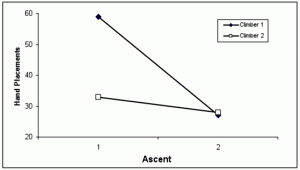 ABSTRACT:
Rock climbing, particularly the version known as "sport climbing," has complex response, performance and training characteristics that make it rich for behavioral analysis and intervention. The purpose of this paper is to explore the operant characteristics of sport climbing as an endeavor in its own right, but also to illustrate the potential for behavior analysis to contribute to sport psychology in general. Accordingly we will: (a) describe sport climbing, emphasizing its behavioral demands and consensus training procedures, (b) review conventional climbing literature (e.g., training books) and research on variables affecting performance in sport climbing, and (c) describe, with supportive data, how behavioral principles and procedures could be applied conceptually to sport climbing, and (d) to suggest opportunities for operant research and practice. (PsycINFO Database Record (c) 2014 APA, all rights reserved)
Download the full paper (12 pages) from T4C >>