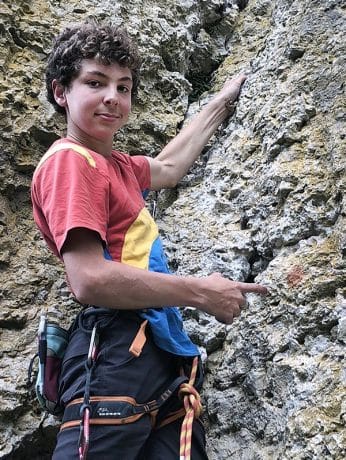 Sport climbing videos are virtually ubiquitous (and often unremarkable), but when I heard about the ROTPUNKT (German for "redpoint") film project I knew it would be special.
Legendary German climber, Kurt Albert invented the Rotpunkt when, in 1975, he started to paint a red dot at the base of each new line he was able to free climb. The redpoint concept (though not the painting of dots) exploded in popularity with the worldwide spread of sport climbing in the 1980s and 1990s.
Another hard-training German, Wolfgang Güllich,  pushed the limits of redpoint climbing in establishing the world's first 5.14a Punks in a Gym in 1985. Two years later Güllich pushed the redpoint limit to 5.14b with Wall Street. Then, in 1991, Güllich established what is to this day  the world's most famous sport climb with his ascent of Action Directe, the world's first 5.14d.
Fast forward twenty-two years…and 20-year-old German phenom Alex Megos achieved the world's first 5.14d onsight Estado Crítico. In 2018, Alex become just the third climber to redpoint a 5.15c climb (F.A. of Perfecto Mundo)! Following in the tradition of Kurt and Wolfgang, Alex continues to train hard, push his personal limits, and help advance the sport of climbing.

The upcoming Patagonia film ROTPUNKT will tell this remarkable story and reveal the power, genius, and indomitable motivation of two generations of German rock stars. I'm fortunate enough to have met (and occasionally climbed with) some of these inspiring individuals, and I'm sure all who see this film will be similarly awed and inspired.
ROTPUNKT Trailer
---
Copyright © 2000–2019 Eric J. Hörst | All Rights Reserved.