Here's the fourth and final video in the Red Bull series about Alex Megos. This episode provides the most intimate look at Alex, his training and, most important, the influence of his coaches and family. In my opinion it's the best of the four–a must watch!
In search of Alex Megos' formula for success, the final chapter in the 4-part series heads back to the Frankenjura, Alex's home in Germany. In October 2015, he set a milestone by establishing the area's hardest route to date, "Supernova" (9a+/9b). The Formula-Series finalizes the search in interviews with Alex' Family and Coaches, leading to the conclusion that Alex is more than the sum of his characteristics.
---
If you haven't watched the first three episodes, here at the links:
---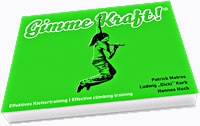 Would you like to learn some of Alex Megos' training exercises? Lucky for you, his coaches (Patrick & Dicki) have created a book, Gimme Kraft, that shares dozens of the exercises that Alex uses each workout. Click here to learn more about this best-selling book, available only from TrainingForClimbing.com, the exclusive North American distributor. Climbers from elsewhere should order from the Café Kraft web site.
---
Copyright © 2000–2016 Eric J. Hörst | All Rights Reserved.